We present the new section "The Roommates" dedicated to the world of furniture.
Cantiere Galli Design expands the service offered to designers through consultancy and the sale of furniture. It is a choice that stems from the now consolidated desire to take care of the project, completely, to support the designer in the careful choice and in selection of the furniture, an integral and extremely significant part of the wider architectural project.
Today we are talking about Zanotta's ""Lia"".
The LIA chair is one of the best known examples of classic modernism for its extraordinary sobriety, essentiality and functionality. Designed in 1998 for Zanotta by Roberto Barbieri, architect, designer and above all friend and collaborator of Aurelio Zanotta, founder of the company. Barbieri is one of the figures that made the Zanotta catalog current and appreciated worldwide.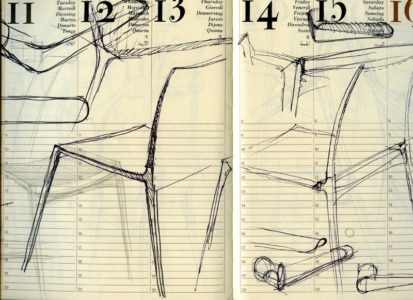 "His sensitivity, his availability, his seriousness and his professional preparation, and above all the great humanity that distinguished him are the most beautiful memory that I will keep".
Eleonora Zanotta
The success of the Lia, and of the series of chairs designed by Roberto Barbieri, is in the innovative conception of his research. Specifically, the main feature is in the advanced use of die casting, the side of the chair is made with a single element in aluminum alloy that simultaneously incorporates the front, rear and back legs.
Barbieri has been able to skillfully combine the technological innovation of the material with a minimal shape easily adaptable to any environment and style. He always said to start from Thonet's observation no. 14, a model / certainty from which to draw inspiration and from which to experiment with new possibilities. Lia represents the essence of the chair, a simple furniture where simplicity is not simplification but a decontamination process.
The structure is in aluminum, polished or painted in black, graphite or white. The padding is in polyurethane and can be covered with a removable cover in leather or fabric or non-removable in leather. There are two variants, 2086 and 2087 which differ only in the width of the seat. Upon request, a 100% cotton fabric cover is supplied, to be worn without fixing; available in two versions: short that covers the seat and back or long that also covers the legs. Armchair with armrests available on request.
A very sociable roommate!