We present the new section "The Roommates" dedicated to the world of furniture.
Cantiere Galli Design expands the service offered to designers through consultancy and the sale of furniture. It is a choice that stems from the now consolidated desire to take care of the project, completely, to support the designer in the careful choice and in selection of the furniture, an integral and extremely significant part of the wider architectural project.
Today we are talking about Cappellini's ""S-Chair"".
This iconic seat, published in 1987, made its creator Tom Dixon famous, considered today one of the best known and appreciated contemporary designers. The S-Chair marks a turning point in his career, a real stylistic inversion, until then oriented to the post industrial. The S-Chair was actually born again with this influence, the first version has in fact a rubber padding recovered from old truck tires, but then to turn all the use of fabrics more suitable to enhance its elegance.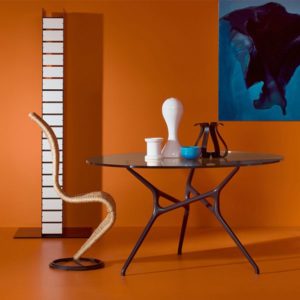 The name evidently refers to its sinuous shape which gives the silhouette of the seat dynamism and elegance. It is precisely the fluid and soft lines that define its sculptural and innovative shape and above all to make it an ultra-comfortable chair.
The seat is supported by a small circular base and is contained in an ideal cylindrical volume that develops vertically right from this base. This makes the S-Chair a furniture with a strong character but with very harmonious proportions. The structure is simple, a painted metal skeleton on which the different types of coating are applied.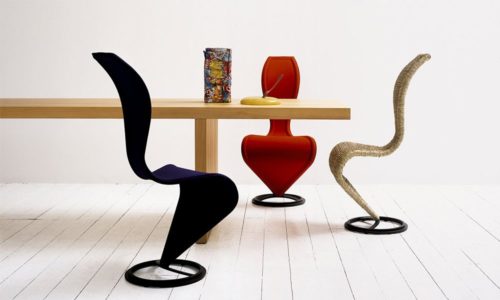 For the series production of 1991, the Cappellini company has chosen new materials for the padding such as the weave of swamp straw or wicker (the best known version and whose meticulous construction is carried out completely by hand) with fixed cover in the Feltro, Panna, Satu, Trapez, Optik and Small Dot fabrics, in white / black pony-style leather.
Cappellini also offers two special versions characterized by exclusive and highly distinctive coatings made by Dimore Studio designers. The English company Tom Dixon, founded by the designer himself, instead offers in the catalog a variant of the original S-Chair, redesigned in 2016 with new proportions of the curve and a slightly different base.
S-Chair is an emblem of contemporary design, an object with an artisan nature transformed into an authentic industrial success that has not lost the original essence of the product, a timeless classic, not surprisingly it is present in the collections of the most famous international museums likeTriennale in Milan and MoMa in New York.