On 20th November was inaugurated the last edition of "Una Stanza Tutta Per Sè"'.
After three years and six editions in which designers and architects succeeded in creating the Room, this first cultural project by Cantiere Galli Design ends with the work of Agostino Iacurci, a young Apulian artist based in Berlin. His "Colazione sull'erba" is a special interpretation of the 2019 theme "Desired guests".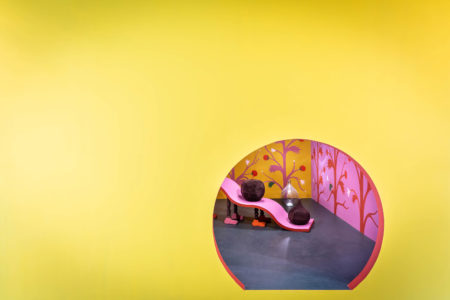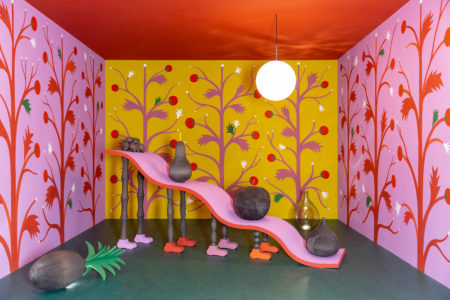 "Una Stanza Tutta Per Sé", now at its third run, takes into account the idea of hospitality. Authors are invited to imagine spaces as places to be inhabited not only by their own personal ideas but also by a physical person of their choice. The Room thus opens up to "Desirable guests" and every invitation turns into an opportunity to enter uncharted mental territory".
The Room therefore from "container of ideas and space of creativity" becomes a place of welcome in which to imagine inviting a guest. A theme that is as delicate as it is current, in the name of solidarity and sharing. Perhaps it is the "sharing" theme that is central to Agostino Iacurci's installation: a table in the middle of the room that invites you to come together and share a pleasant moment.
And if the table in question is a sinuous line that slowly turns into a carpet, this becomes the metaphor of welcome for all cultures and different ways of eating: standing, sitting or on the ground. The desired guests are the diversities, as evidenced by the table feet in different colors.
The artist also wants to celebrate one of his childhood moments linked to the conviviality he remembers with pleasure: the preparation of the sauce, that's why he fills the walls of the Stanza with lots of tomato plants.
"In my family the table is the center of social life, the place where you spend most of your time together and where you exchange affections in the form of dishes.
Moreover, in my part, to brake abruptly an excess of confidence of an interlocutor, you ask himself: "Have we ever eaten together?", as to say that sharing a meal is the minimum requirement of knowing.
When I was invited to imagine a room on this theme "Desired guests" I could not help thinking of the great tables of my childhood, often laid out in the countryside during family celebrations, of which my favorite part was the making of sauce.
So I imagined a table among the tomatoes, a plant very dear to me and with an emblematic story. Native to Mexico and Peru, the tomato plant arrived in Europe in 1540. Considered toxic for a long time and then used for ornamental purposes, the tomato became an edible food only many decades later, thanks to the process of adaptation to our climates that turned the fruit from yellow to red.
In 500 years, that appeared to us as a poison because of its exotic appearance ended up becoming a cornerstone of our gastronomic culture, an element of identity and an essential part of our economy.
In the middle of this landscape with tomatoes I then imagined a table. I inspired it from the curves of Victorine Meurent in the most famous of the paintings depicting a rural meal: "Le Déjeuner sur l'herbe" by Manet.
Sinuous and safe, the peculiarity of this table is that of being a carpet at the same time. An object that can ideally accommodate the different ways of eating: standing, sitting, kneeling, on the ground. In fact, I wanted my table to be open and curious, able to make every guest desired".
Agostino Iacurci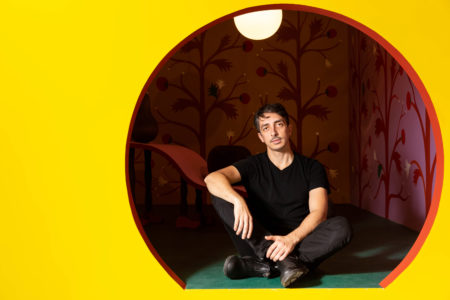 Until spring we can have breakfast among the tomatoes, we are waiting for you at Cantiere!