Mosa is a company located in the Netherlands founded in 1883, over 130 experience in tile production!
The key words in the company philosophy are: innovation and design. The distinctive design of the tiles, of high quality and aesthetic level, combined with the innovation in terms of sustainability of the entire design and production process, are of great importance. Mosa is able to satisfy the specific wishes of its customers, working with those architects who aspire to leave their mark and personality in the projects they work on. The proximity to the needs of the designers with the possibility of producing small series represents a great point in favor of the company. Small quantities on request can be produced from 100 square meters, a tailor-made work that is so dear to the architects. This is why it is taking on a lot of importance in the company. In the Mosa design studio we are constantly working on developing new products, many of which are recognized with international design awards.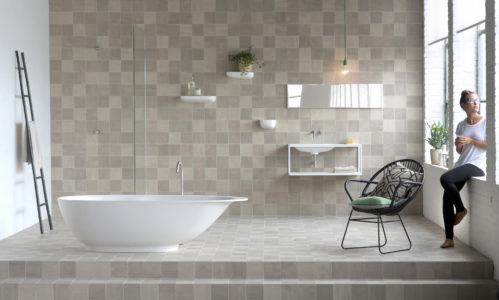 In terms of sustainability, Mosa is one of the leaders at an international level and is the first ceramic tile manufacturer in the world to have achieved C2C certification (Cradle to Cradle): waste reduction and energy saving through the five main criteria: pure raw materials, great recycling potential, reduced energy consumption and environmentally friendly water management.
The unique double-firing system for floor tiles (for interiors and exteriors) and for walls ensures homogeneity in dimensions and gives exceptional surface finishes, together with the wide range of colors available, Mosa products are able to satisfy every need by technical and aesthetic qualities.
The series we want to focus on today is the μ series.
Designed to interact with space and time μ (mu), it reacts intelligently to changes in light. The Mosa experts have in fact studied the ceramic pigments and the way they interact with each other, as well as their relationship with elements such as light, distance and angle, colored objects. With the changing light in a room, the appearance of a μ floor also changes, creating impalpable and surprising color effects. μ makes the most of the three-dimensional space that surrounds it, adding the fourth dimension: the time.
Light is a crucial factor in the perception of μ. The way in which it combines the various colors means that the tiles absorb certain light waves and reflect others, playing with them and creating various nuances. When the light changes, the surface of μ also changes.

A truly unique company! Here at Cantiere Galli Design, all the detailed info and a wide exposure to verify its characteristics.